Switching from MR Version 2 to MR Version 3
Breakdown of the Morning Report created in 1945. The bottom covers the O & EM counts day to day. Left side goes from top to bottom and shows the Military Ranks.
Across columns covers Military assignments left to right. Across the top just above the first header goes 1 - 13 looking (1) in each column.
Top to bottom is as follows, Officers with one row, Enlisted Men 4 double rows, 3 single rows:
(1) Row 1
GEN General
COL Colonel
LT Lieutenant Colonel
COL
MAJ Major
CAPT Captain
1ST First Lieutenant
LT
2ND Second Lieutenant
LT
TOT- Total
AL
Three empty rows
M SGT Master Sergeant
1 SGT First Sergeant
T SGT Technical Sergeant
S SGT Staff Sergeant
TEC-3 Technician 3rd Grade
SGT Sergeant
TEC-4 Technician 4th Grade
CPL Corporal
TEC-5 Technician 5th Grade
PFC Private First Class
PVT Private
One empty row
TOT- Total
AL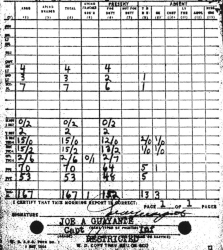 1 -----
2 ASGN Assign
3 ATCHD FR ASGN Attached From Assign
4 TOTAL Total
5 ATCHD Attached From Assign Officer Junior Grades
FR ASGN
OJG'S
PRESENT
6 FOR For Duty
DUTY
7 NOT Not For Duty
FOR DUTY
ABSENT
8 T D Temporary Duty
D S Detached Service
9 SK Sick
10 CONF Confinement
11 LV Leave
FUR Furlough
12 AWOL Absent With Out Leave
13 MISS- Missing
ING