One Step Further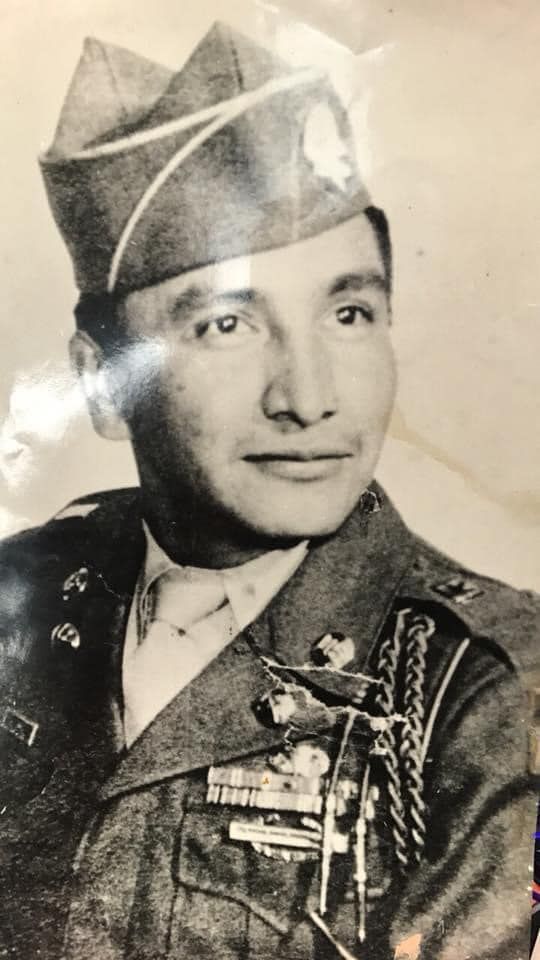 This is Staff Sergeant Herbert Jeffery Buffalo Boy who joined Company D of the 505th Parachute Infantry Regiment at the start, August 1942. Buffalo Boy was there until the end with three months in Hospital wounded October 1944 in Holland.
Buffalo Boy was a Machine gunner for Company D, rising from Private to Staff Sergeant by the end of World War II. He was in all 6 Campaigns for the 505th and jumped 4 times into combat. Attached are the records for Staff Sergeant Buffalo Boy. Included is where Company D was day to day for Normandy, The Bulge and Central Europe.

Here is a link to Herbert Buffalo Boy's Find A Grave. The work done there is amazing.

Usually the story ends for many of the men from WWII when they die. Not this time though, because sometime between 1955 and 1957 a Stolen Valor named Bill Cano (who was not in WWII) subscribed to the Co E Poop Sheet created and run by Don Lassen.
Cano at some point in the late 1940s changed his name to Buffalo Boy Canoe. Bill Cano (Buffalo Boy Canoe) was a fraud for most of his adult life. Cano must run across the real soldier Herbert Buffalo Boy as he latched on to not only by using a similar name but also saying he was in Company D in WWII.
In May of 1958 letters were sent out to Co E Poop Sheet members by the staff of Cornelius Ryan along with a questionnaire about their time in Normandy. One of the people was Bill Cano.
Below is a link about what Cano did to both Mr. Buffalo Boy and the WWII Military by co-opting Herbert Buffalo Boy life and name. Cano is without a doubt the worst of the WWII Stolen Valor.